Description
Mother of Pearl rosary beads and all bronze rosary parts are put together to create this beautiful wire-wrapped rosary. When you buy a rosary, get it blessed immediately by a priest. A blessed rosary is a powerful channel of Grace, and has many indulgences attached to it.
Mother of Pearl Rosary Parts
---
Beads:
Aves: Mother of Pearl (Shell) Beads – 8mm
Paters: Mother of Pearl (Shell) Beads – 10mm
Rosary Center:  3/4 inch Miraculous Medal Center in a Garden Gate Style. Solid lead-free brass.
Crucifix: 2 1/2″ (63 mm), Solid lead-free brass.
Bead Caps:  Brass (Lead-free)
Wire: Bronze
Method: Wire-wrapped by hand
Total Length: 33″ (84 cm)
Gift box:  Included
Additional Product Information Tab contains information pertaining to shipping box dimensions only.
Pray the Rosary Every Day
---
The power of the Rosary was immediately demonstrated during St. Dominic's time and continues to be seen today. Not only will the Rosary bring peace to your personal life, but it is also a powerful tool that can bring peace to the entire world.
Sr. Lucia, one of the children Mary appeared to at Fatima, stated in a 1957 interview:
"The Most Holy Virgin, in these last times in which we live, has given new efficacy in the recitation of the Holy Rosary."

"She has given this efficacy to such an extent that there is no problem, no matter how difficult it is, whether temporal or above all spiritual, in families, of the families in the world, or of the religious communities, or even of the life of peoples and nations, that cannot be solved by the Rosary."

"There is no problem, I tell you, no matter how difficult it is, that we cannot solve by the prayer of the Holy Rosary. With the Holy Rosary we will save ourselves. We will sanctify ourselves. We will console Our Lord and obtain the salvation of many souls."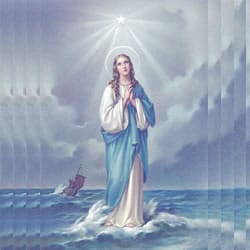 VIRGÓ SACRÁTA is a Christian mission-driven online resource and shop inspired from the beauty of Catholic faith, tradition, and arts. Our mission is to "Restore All Things to Christ!", in continuing the legacy of Pope St. Pius X under the patronage of the Blessed Virgin Mary. "Who is she that cometh forth as the morning rising, fair as the moon, bright as the sun, terrible as an army set in battle array?" O Mary, conceived without sin, pray for us who have recourse to Thee.