Description
Mother Love is an inspiring prayer book, compiled by Rev. Pius Franciscus, contains a vast assortment of prayers, devotions, and instructions for Catholic wives and mothers. Throughout the pages of Mother Love the prayers and instructions are aimed at aiding a mother to develop her mind and heart according to Christian principles so that she may more easily draw her family to Christ.
684 pages
Original 1926 reprint without revisions
Imprimatur – +Patrick Cardinal Hayes, D.D. – 1925
Mother Love Includes:
Familiar prayers and special devotions for Holy Mass, Communion and Confession
Prayers for the various special needs of a Christian mother

for a happy delivery
to the Guardian Angels of her children
to obtain a conversion for her child
for her sick children
and many more

Prayers and novenas to the special patrons of mothers and wives such as Saints Monica and Elizabeth
Instructions for mothers on how to train their child throughout the stages of his/her life
Purchase this book for yourself, or for the Catholic mothers you know. It contains almost everything a mother needs to nurture and grow her spiritual life, so that through their sanctification they may sanctify their husbands and children, and truly become the heart of the Catholic home.
"What on God's good earth is more glorious than this; to be a mother?"  Cardinal Mindzenty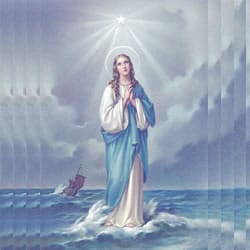 VIRGÓ SACRÁTA is a Christian mission-driven online resource and shop inspired from the beauty of Catholic faith, tradition, and arts. Our mission is to "Restore All Things to Christ!", in continuing the legacy of Pope St. Pius X under the patronage of the Blessed Virgin Mary. "Who is she that cometh forth as the morning rising, fair as the moon, bright as the sun, terrible as an army set in battle array?" O Mary, conceived without sin, pray for us who have recourse to Thee.