For mystical reasons the Church set forth the 1917 Code of Canon Law, stating that candles must be "maxima parte" (>65%) of beeswax to be in keeping with the pure flesh of Christ and to enrich the essence of the Holy Sacrifice of The Mass.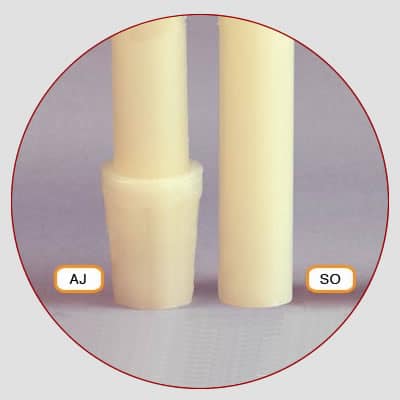 We guarantee all our altar candles are made with 66% pure Canadian beeswax carefully selected for clean burning and dependable performance. The tube candles are specially designed to withstand candletubes pressure.
Altar candles are available with adjustable base "Code AJ ", or straight base "Code SO " The adjustable candles fit all candleholders. To select the right candle you need, please refer to the specification table below, and contact us via product inquiry form to receive your quote.
By purchasing your candles from Virgo Sacrata you are agreeing that you have read "My Candle Care & Safety Tips", and agree to the Virgo Sacrata's "terms and conditions".
---

LARGE DIAMETER ALTAR CANDLES – 2/3% BEESWAX

---

*Available with adjustable base Code AJ or straight base Code SO

SKU Code
Description
Height
Diameter
Minimum
66-0912*
Beeswax Altar candles
9″ – 230mm
1-1/4″ – 32 mm
12 un
66-1212*
Beeswax Altar candles
12″ – 300mm
1-1/4″ – 32 mm
12 un
66-1512*
Beeswax Altar candles
15″ – 380 mm
1-1/4″ – 32 mm
12 un
66-0915*
Beeswax Altar candles
9″ – 230mm
1-1/2″ – 38 mm
12 un
66-1215*
Beeswax Altar candles
12″ – 300mm
1-1/2″ – 38 mm
12 un
66-1515*
Beeswax Altar candles
15″ – 380 mm
1-1/2 – 38 mm
12 un
66-0917*
Beeswax Altar candles
9″ – 230mm
1-3/4″ – 44 mm
6 un
66-1217*
Beeswax Altar candles
12″ – 300mm
1-3/4″ – 44 mm
6 un
66-1517*
Beeswax Altar candles
15″ – 380 mm
1-3/4″ – 44 mm
6 un
66-0920*
Beeswax Altar candles
9″ – 230mm
2″ – 51 mm
6 un
66-1220*
Beeswax Altar candles
12″ – 300mm
2″ – 51 mm
6 un
66-1520*
Beeswax Altar candles
15″ – 380 mm
2″ – 51 mm
6 un
66-0925*
Beeswax Altar candles
9″ – 230 mm
2-1/2″ – 63 mm
4 un
66-1225*
Beeswax Altar candles
12″ – 300 mm
2-1/2″ – 63 mm
4 un
66-1525*
Beeswax Altar candles
15″ – 380 mm
2-1/2″ – 63 mm
4 un
66-0930*
Beeswax Altar candles
9″ – 230 mm
3″ – 76 mm
4 un
66-1230*
Beeswax Altar candles
12″ – 300 mm
3″ – 76 mm
4 un
66-1530*
Beeswax Altar candles
15″ – 380 mm
3″ – 76 mm
4 un

---

SMALL DIAMETER ALTAR CANDLES – 2/3% BEESWAX

---

Code
Description
Height
Diameter
Minimum
66-1511D
Altar candles straight base
15″ – 380mm
1 1/8″ – 28mm
2
66-02S-SO
Altar candles straight base
18 1/2″ – 470mm
1″ – 25mm
2
66-03S-SO
Altar candles straight base
16″ – 405mm
7/8″ – 22mm
3
66-04S-SO
Altar candles straight bas
14″ – 355mm
3/4″ – 19mm
4
66-04S-SO7
Altar candles straight base
12″ – 300mm
7/8″ – 22mm
4
66-05S-SO
Altar candles straight base
12″ – 300mm
3/4″ – 19mm
5
66-06S-SO
Altar candles straight base
10″ – 255mm
3/4″ – 19mm
6
66-08S-SO
Altar candles straight base
7″ – 180mm
3/4″ – 19mm
8
66-12S-SO
Altar candles straight base
8″ – 200mm
5/8″ – 16mm
12
66-1511AJ
Altar candles adjustable base
15″ – 380mm
1 1/8″ – 28mm
2
66-02S-AJ
Altar candles adjustable base
18 1/2″ – 470mm
1″ – 25mm
2
66-03S-AJ
Altar candles adjustable base
16″ – 405mm
7/8″ – 22mm
3
66-04S-AJ
Altar candles adjustable base
13 1/2″ – 340mm
3/4″ – 19mm
4
66-04S-AJ7
Altar candles adjustable base
12″ – 300mm
7/8″ – 22mm
4
66-05S-AJ
Altar candles adjustable base
12″ – 300mm
3/4″ – 19mm
5
66-06S-AJ
Altar candles adjustable base
9 1/2″ – 240mm
3/4″ – 19mm
6
66-08S-AJ
Altar candles adjustable base
7″ – 180mm
3/4″ – 19mm
8