Description
The ideal, when Catholics marry, is that they should receive the nuptial blessing. This blessing is always given in the nuptial Mass. It is not allowed to give the nuptial blessing without the Mass. This Booklet Missal is designed for Praying the Traditional Mass for the Bridegroom and Bride.
This small, easy to use booklet contains the Latin and English "Ordinary" or non-changeable portions of the Roman Catholic Traditional Mass for weddings. This "Missa pro sponso et sponsa" or Mass for Husband and Wife uses the Latin text according to the 1962 Typical Edition of the Missale Romanum which is approved by the the Roman Catholic Church.
The booklet provides a compact source  with large, clear print, classic illustrations and concise explanations.
Includes the Marriage Service and the Complete Nuptial Mass
Over 40 illustrations
Instructions for when the Faithful are to kneel, stand or sit
Prayers over the Bride and Bridegroom
Nuptial Blessings
A Husband's Prayer
A Wife's Prayer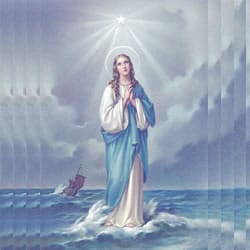 VIRGÓ SACRÁTA is a Christian mission-driven online resource and shop inspired from the beauty of Catholic faith, tradition, and arts. Our mission is to "Restore All Things to Christ!", in continuing the legacy of Pope St. Pius X under the patronage of the Blessed Virgin Mary. "Who is she that cometh forth as the morning rising, fair as the moon, bright as the sun, terrible as an army set in battle array?" O Mary, conceived without sin, pray for us who have recourse to Thee.