Description
If you have a child aged 4-8 and are looking for a Traditional Missal suited to their capabilities, look no further. We consider this the best missal for children in this age bracket. Originally published in 1958, we, at one point, acquired and sold thousands of originals. After those supplies were exhausted, we decided to reprint this classic in full color.
Marian Children's Missal includes:
-The Ordinary of the Mass in large print English (with thirty-five color photos)
-The readings for all Sundays and major holy days (with thirteen color illustrations)
-Instructions on when to sit, stand, and kneel
-Prayers for before and after Holy Communion
-The indulgenced prayer before a crucifix
-A child's preparation for Confession
-The prayers of the priest and responses of the laity for the Missa Recitiva (in Latin and English)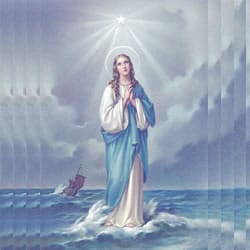 VIRGÓ SACRÁTA is a Christian mission-driven online resource and shop inspired from the beauty of Catholic faith, tradition, and arts. Our mission is to "Restore All Things to Christ!", in continuing the legacy of Pope St. Pius X under the patronage of the Blessed Virgin Mary. "Who is she that cometh forth as the morning rising, fair as the moon, bright as the sun, terrible as an army set in battle array?" O Mary, conceived without sin, pray for us who have recourse to Thee.