Madonna of the Harpies Bonded Marble Statue by artist Andrea del Sarto (1486-1530), Uffizi Galleria, Florence. Bringing del Sarto's revered image of the Madonna and Child into three dimensions, this unique sculpture is a classic composition of great skill and beauty. Complete with details including the painstakingly rendered garment folds and the feathered angel wings, this more-than-foot-tall masterpiece is cast in fine-quality bonded natural marble for proud display in home or gallery.
Madonna of the Harpies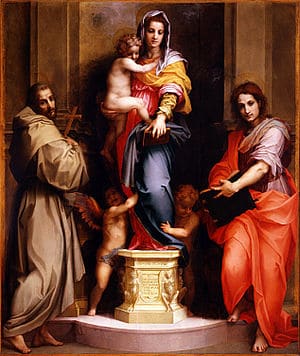 Madonna of the Harpies (Italian: Madonna delle Arpie) is an altarpiece in oils by Andrea del Sarto, a major painter of the High Renaissance. It was commissioned in 1515 and signed and dated by the artist in 1517 in the inscription on the pedestal; it is now in the Uffizi in Florence.