Description
Prepares students to read the Roman Missal and Breviary. 195 pages of grammar and a 130-page Latin-English glossary, containing all the words in the Roman Missal and the Roman Breviary. Lessons and readings from these two books, plus from the Latin Vulgate Bible. Fantastic tool for the study of Church Latin.
Cora Carroll Scanlon and Charles L. Scanlon, A.M., were two linguistic authors of the mid-twentieth century. Cora Carroll was employed with the Milwaukee State Teachers College, while Charles L. served Marquette University. They authored two introduction textbooks to Latin, entitled Latin Grammar for the Reading of the Missal and Breviary and Second Latin, both published in 1944 and 1948 by the B. Herder Book Company, respectively.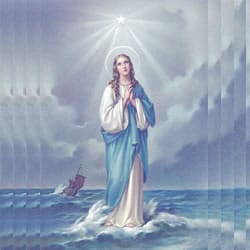 VIRGÓ SACRÁTA is a Christian mission-driven online resource and shop inspired from the beauty of Catholic faith, tradition, and arts. Our mission is to "Restore All Things to Christ!", in continuing the legacy of Pope St. Pius X under the patronage of the Blessed Virgin Mary. "Who is she that cometh forth as the morning rising, fair as the moon, bright as the sun, terrible as an army set in battle array?" O Mary, conceived without sin, pray for us who have recourse to Thee.