Description
The Last Rites booklet serves as both a ritual and step-by-step instructional for the administration and reception of the sacrament of Extreme Unction or Last Rites. It is an essential book for all those wishing to be well prepared for death or to better understand the solemn nature of this beautiful sacrament.
This essential booklet gives detailed explanations of the following:
What to do in Danger of Death
Sick Calls: How to prepare for Priest and What to Do When He Arrives
Extreme Unction – Confession and Communion of the Sick – Viaticum
Apostolic Blessing, Prayers for the Dying
Visitation and Care of the Sick: Imposition of Hands
Praying for the Dying Person especially when the Last Agony begins, at the Moment of Death, and after the Soul Has Departed
Prepare yourself, loved ones and family members to witness, assist, and receive the Last Rites. Having this book before it's needed is the easiest way to make sure not only that our family and home is ready but also that the souls of our loved ones are well prepared for eternity.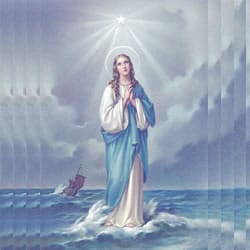 VIRGÓ SACRÁTA is a Christian mission-driven online resource and shop inspired from the beauty of Catholic faith, tradition, and arts. Our mission is to "Restore All Things to Christ!", in continuing the legacy of Pope St. Pius X under the patronage of the Blessed Virgin Mary. "Who is she that cometh forth as the morning rising, fair as the moon, bright as the sun, terrible as an army set in battle array?" O Mary, conceived without sin, pray for us who have recourse to Thee.