Description
Finest indoor statue of St. Michael the Archangel for your home protection. Make a special area in your residence for Saint Michael statue.
Bonded Marble Saint Michael Statue
---
This sculptural detail from one of Paris's most beloved landmarks, the Fontaine Saint-Michel (1860), is captured in three-dimensional detail in high-quality bonded natural marble. With sword held high in the final moment of Satan's defeat, this museum-quality work of art is a testament to St. Michael's strength and to the exquisite sculpture of Frenchman Duret. The Fontaine Saint-Michel was the centerpiece of Baron Haussmann's Paris Reconstruction during the Second Empire.
St. Michael, whose name can be translated from Hebrew to mean 'who is like God', is considered a manifestation of the protection and power of God. It is therefore common to find St. Michael statues in homes. It is believed that placing Saint Michael statues in your home will ward off misfortunes and protect you from attacks by evil spirits.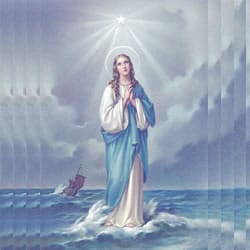 VIRGÓ SACRÁTA is a Christian mission-driven online resource and shop inspired from the beauty of Catholic faith, tradition, and arts. Our mission is to "Restore All Things to Christ!", in continuing the legacy of Pope St. Pius X under the patronage of the Blessed Virgin Mary. "Who is she that cometh forth as the morning rising, fair as the moon, bright as the sun, terrible as an army set in battle array?" O Mary, conceived without sin, pray for us who have recourse to Thee.