Description
Jesus in the Garden of Gethsemane Statue by artist Carlo Bronti.
"And they came to a farm called Gethsemani. And he saith to his disciples: Sit you here, while I pray." Mark 14:32
Depicting one of the Bible's most dramatic moments, artist Carlo Bronti captures the scene when Jesus laid down his life to his Father with the words, "Not what I will, but what You will." Full of mystery, this amazingly detailed, two-foot-tall sculpt is cast in quality designer resin with a faux stone finish to capture every detail, from folded hands to pious expression. This exclusive statue is a true investment in garden art.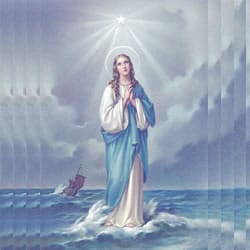 VIRGÓ SACRÁTA is a Christian mission-driven online resource and shop inspired from the beauty of Catholic faith, tradition, and arts. Our mission is to "Restore All Things to Christ!", in continuing the legacy of Pope St. Pius X under the patronage of the Blessed Virgin Mary. "Who is she that cometh forth as the morning rising, fair as the moon, bright as the sun, terrible as an army set in battle array?" O Mary, conceived without sin, pray for us who have recourse to Thee.