Description
Hanging Wooden Crucifix 10 inch with Golden Corpus. Gift box included.
". . . Never cross the threshold of your houses without saying, "I renounce Satan, and devote myself to Jesus Christ"; accompanying these words with the Sign of the Cross: cum hoc verbo et crucem in fronte imprimas." ~ St. Chrysostom, Quod Christus sit Deus: et Homil. Xxi, ad popul. Antioch.
"Where are the crucifix, holy images, holy, water in apartments? In the sea, all in the sea. And the vessel still continues to sink. The Christian spirit is diminishing; the contrary spirit is increasing. They cast themselves into skiffs, that is to say, into some kind of religion, which they make to suit their age, position, temperament and taste, and they live in this way." ~ Mgr. Jean-Joseph Gaume, The Sign of the Cross.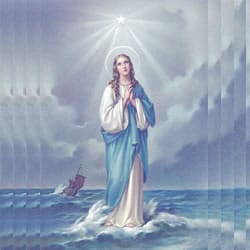 VIRGÓ SACRÁTA is a Christian mission-driven online resource and shop inspired from the beauty of Catholic faith, tradition, and arts. Our mission is to "Restore All Things to Christ!", in continuing the legacy of Pope St. Pius X under the patronage of the Blessed Virgin Mary. "Who is she that cometh forth as the morning rising, fair as the moon, bright as the sun, terrible as an army set in battle array?" O Mary, conceived without sin, pray for us who have recourse to Thee.