Description
Halo Crucifix, wooden wall cross with Corpus of Jesus Christ with Halo. Crosses with the corpus of Jesus Christ often appear with a circle or arc, and can be called a Halo Crucifix.
How precious the gift of the cross, how splendid to contemplate! In the cross there is no mingling of good and evil, as in the tree of paradise: it is wholly beautiful to behold and good to taste. The fruit of this tree is not death but life, not darkness but light. This tree does not cast us out of paradise, but opens the way for our return. ~ St. Theodore the Studite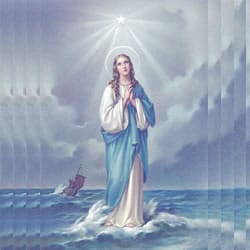 VIRGÓ SACRÁTA is a Christian mission-driven online resource and shop inspired from the beauty of Catholic faith, tradition, and arts. Our mission is to "Restore All Things to Christ!", in continuing the legacy of Pope St. Pius X under the patronage of the Blessed Virgin Mary. "Who is she that cometh forth as the morning rising, fair as the moon, bright as the sun, terrible as an army set in battle array?" O Mary, conceived without sin, pray for us who have recourse to Thee.