Description
The Chaplet of St. Therese of Lisieux features a beautiful hand-engraved 14K Gold-filled medal of St-Therese and the rosary center, genuine Kunzite semiprecious gemstone beads, traditionally wire-wrapped in the gold-filled wire by hand, making the chaplet virtually unbreakable.
Gold Chaplet of St. Therese of Lisieux Parts
---
Beads: Genuine Kunzite Semiprecious Gemstone, 8 mm and 10 mm
Small  Beads: 14/20 Yellow Gold-Filled
Chaplet Center:   14/20 Yellow Gold-Filled,  Hand-Engraved
Medal: 1″ x 3/4″, 14/20 Yellow Gold-Filled,  Hand-Engraved
Bead Caps: 5 mm 14/20 Yellow Gold-Filled
Wire: 14/20 Yellow Gold-Filled Round Wire
Method: Wire-wrapped by hand
Total Length: 14″ (35 cm)
Gift box:  Included
Additional Product Information Tab contains information pertaining to shipping box dimensions only
---
Chaplet of St Therese – Little Flower Rosary Prayer
---
Make the Sign of the Cross, and say on the first bead:
"St. Therese of the Infant Jesus, Patroness of Missions, pray for us!"
On each of the remaining 24 beads say The Glory be to honour the Holy Trinity in thanksgiving for having given us the Little Saint who lived in this world but 24 years.
"Glory be to the Father and to the Son and to the Holy Spirit. As it was in the beginning is now, and ever shall be, world without end. Amen."
Concluding prayer to St. Therese:
"St. Therese, the Little Flower, please pick me a rose from the heavenly garden and sent it to me with a message of love. Ask God to grant me the favour I thee implore and tell Him I will love Him each day more and more. Amen"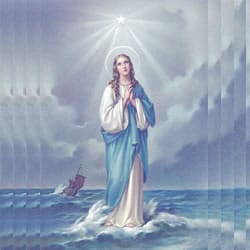 VIRGÓ SACRÁTA is a Christian mission-driven online resource and shop inspired from the beauty of Catholic faith, tradition, and arts. Our mission is to "Restore All Things to Christ!", in continuing the legacy of Pope St. Pius X under the patronage of the Blessed Virgin Mary. "Who is she that cometh forth as the morning rising, fair as the moon, bright as the sun, terrible as an army set in battle array?" O Mary, conceived without sin, pray for us who have recourse to Thee.