Description
Frankincense and Myrrh incense blend, 100% natural resin granules which have been purified for the cleanest burn and purest aromas. 1.5 oz containers of Frankincense & Myrrh incense.
In the Bible, the three wise men bring gifts of gold, frankincense and myrrh to the infant Jesus.
"And entering into the house, they found the child with Mary his mother, and falling down they adored him; and opening their treasures, they offered him gifts; gold, frankincense, and myrrh." ~ Matthew 2:11

"Gold, Frankincense and Myrrh" means simply this: Gold is the pure, imperishable quality of the monastic ideal. Frankincense the supreme act of worship through the Blessed Sacrament, Myrrh the saving quality of a right philosophy of life that yet must be bitter to the taste of many people. Together they are the three gifts that must again be offered by a world once more led, though now by the red and malefic star of war, to worship and fall down before the Incarnate God so long and so, lightly denied." (Ref: "Gold, Frankincense and Myrrh" by RALPH ADAMS CRAM. 1919)
The smoke of burning incense is interpreted by both the Catholic and Orthodox Christian churches as a symbol of the prayer of the faithful rising to heaven. For more information read  our articles about "The Symbolism of Incense at Mass" and "Traditional Epiphany Home Blessing".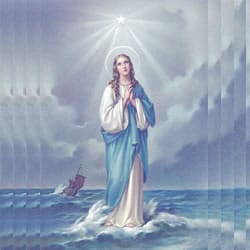 VIRGÓ SACRÁTA is a Christian mission-driven online resource and shop inspired from the beauty of Catholic faith, tradition, and arts. Our mission is to "Restore All Things to Christ!", in continuing the legacy of Pope St. Pius X under the patronage of the Blessed Virgin Mary. "Who is she that cometh forth as the morning rising, fair as the moon, bright as the sun, terrible as an army set in battle array?" O Mary, conceived without sin, pray for us who have recourse to Thee.