Description
 My Catholic Faith
---
"My Catholic Faith" by Bishop Marrow was first printed in 1954.  Profusely and beautifully illustrated! While the durable burgundy and gold-embossed hardcover makes it a family heirloom. 415 pp.  The perfect gift!
Very complete, it covers every subject from Angels to zeal. Hundreds of illustrations. 8 x 10. 415 pages. Prepared for those who desire to a have a concise knowledge of the doctrines and practices of the Catholic Church. It is a complete catechism, useful for ready reference, for it takes up in a clean and practical manner the questions and subjects that are likely to arouse the interest of the general reader, whether Catholic or non-Catholic.
Abundant Scriptural quotations (excellent for proving Catholic Doctrine to "Bible-Believing" Protestants). It's also an excellent tool for dealing with liberal Catholics because two subjects of utmost importance are thoroughly treated: the true nature of the Catholic Church (today denied by false ecumenism) and the Holy Sacrifice of the Mass (today obscured by the New Mass).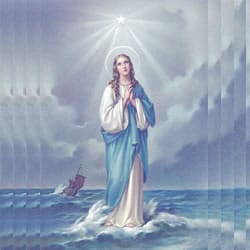 VIRGÓ SACRÁTA is a Christian mission-driven online resource and shop inspired from the beauty of Catholic faith, tradition, and arts. Our mission is to "Restore All Things to Christ!", in continuing the legacy of Pope St. Pius X under the patronage of the Blessed Virgin Mary. "Who is she that cometh forth as the morning rising, fair as the moon, bright as the sun, terrible as an army set in battle array?" O Mary, conceived without sin, pray for us who have recourse to Thee.