Description
The Redemptorist Father Michael Müller had a secret weapon which won him more converts than did his indefatigable preaching and writing: the holy rosary. This book was written as a thank you to the Mother of God for graces received. Not only does Father Müller explain what the rosary is, but what the rosary should be. After reading this devoted author, we assure you, you will never again say the rosary mechanically, or wear the scapular apathetically.
The Holy Rosary is a gift from the Blessed Virgin Mary, as are her powerful scapulars. This is the theme Father Michael Müller stresses throughout these two hundred and seventy-five pages of grateful acclamation to a devotion upon which the salvation of great multitudes of sinners rests. The heartfelt recitation of the Rosary and meditation on the mysteries thereof is the best "thank you" we can give to Mary for her unfathomable mercies. The scholarly author expounds upon every aspect of this devotion now over eight hundred years old. He relates it wonderfully to the New Testament as well as to the Old. Every single page of this pious work is replete with holy quotations or exciting analogies, inspiring anecdotes or miracles. And, too, there are enough actual accounts of graces spurned, or false, even superstitious devotion, to make us fearful. This is a book that the faithful will love so much that they will feel compelled to share their gift with wayward friends and relatives.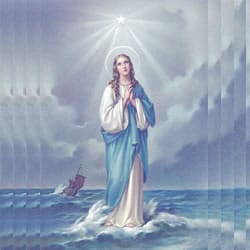 VIRGÓ SACRÁTA is a Christian mission-driven online resource and shop inspired from the beauty of Catholic faith, tradition, and arts. Our mission is to "Restore All Things to Christ!", in continuing the legacy of Pope St. Pius X under the patronage of the Blessed Virgin Mary. "Who is she that cometh forth as the morning rising, fair as the moon, bright as the sun, terrible as an army set in battle array?" O Mary, conceived without sin, pray for us who have recourse to Thee.