Description
Miserere mihi, Domine, et exaudi orationem meam.
These words, "Have pity on me, Lord, and hear my prayer" are the antiphon that precedes the first psalm of Sunday compline. They also sum up the purpose and scope of compline, the ancient night prayer of the Church, and a beautiful way to join your prayers to the thousands of monks, brothers, sisters, priests, and seminarians praying this same prayer.
Our compline book will help you to enter deeply into the official prayer of the Church. With Latin-English text, and the propers for every night of the week, plus the tones for various seasons and feasts, special rubrics, and compline for Holy Week, this is the most complete Compline book available for the faithful. This booklet is perfect for enhancing your family's prayer life!
84 pp. Leatherette softcover. Red/Black text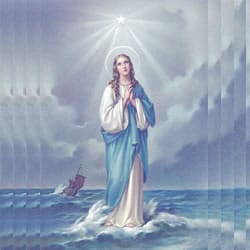 VIRGÓ SACRÁTA is a Christian mission-driven online resource and shop inspired from the beauty of Catholic faith, tradition, and arts. Our mission is to "Restore All Things to Christ!", in continuing the legacy of Pope St. Pius X under the patronage of the Blessed Virgin Mary. "Who is she that cometh forth as the morning rising, fair as the moon, bright as the sun, terrible as an army set in battle array?" O Mary, conceived without sin, pray for us who have recourse to Thee.