Description
Saint Ann (St Anne) chaplet dates back to 1875 and is made of 18 genuine aquamarine beads wire-wrapped in sterling silver. At the beginning is a Unique sterling silver medal of St. Anne and Mary as a young girl.  St. Anne is the patron saint of mothers, grandparents, childless people, housewives, and Canada. St Ann feast day is July 26.
Saint Ann Chaplet Parts
---
Beads: Genuine Aquamarine Semiprecious Gemstones, 8 mm (15 beads), and 10 mm (3 beads)
Medal: Saint Ann/Guardian Angel, 1 1/8″ x 1 1/4″, Sterling Silver 0.925
Bead Caps: Sterling Silver 0.925
Chain and Small Beads: Sterling Silver 0.925
Wire: Sterling Silver
Method: Wire-wrapped by hand
Total Length:  12″ (31 cm)
Gift box:  Included
Additional Product Information Tab contains information pertaining to shipping box dimensions only
How to Pray the Chaplet of Saint Anne
---

The Little Chaplet of Saint Ann is composed of three Our Fathers and fifteen Hail Marys and is divided into three parts; the first part, one Our Father and five Haily Marys, is said in honor of Jesus, the Author of Grace; the second in honor of Mary, the channel through which all graces come to us from Jesus; the third in honor of Saint Anne, our advocate.
The manner of reciting:
Make the sign of the cross; then kiss devoutly the medal of Saint Anne saying the prayer: Jesus, Mary, Anne.
While reciting the first part thank Jesus for His favors, ask pardon for sins and future favors.
While reciting the second part praise Mary and ask her to present your petition to Saint Anne.
The third part is a petition to the Good Saint Anne.
Each group is concluded with a Glory Be as an act of praise to the Blessed Trinity.
1This information is quoted from "Twenty-four rosaries and chaplets" by Patrick Shaughnessy. Publication date 1954.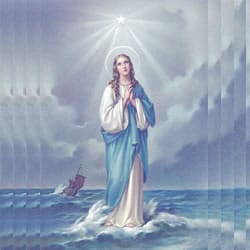 VIRGÓ SACRÁTA is a Christian mission-driven online resource and shop inspired from the beauty of Catholic faith, tradition, and arts. Our mission is to "Restore All Things to Christ!", in continuing the legacy of Pope St. Pius X under the patronage of the Blessed Virgin Mary. "Who is she that cometh forth as the morning rising, fair as the moon, bright as the sun, terrible as an army set in battle array?" O Mary, conceived without sin, pray for us who have recourse to Thee.