Description
The Black Madonna of Częstochowa (Polish: Czarna Madonna or Matka Boska Częstochowska, Latin: Imago thaumaturga Beatae Virginis Mariae Immaculatae Conceptae, in Claro Monte ), also known as Our Lady of Częstochowa, is a revered icon of the Virgin Mary housed at the Jasna Góra Monastery in Częstochowa, Poland. Several Pontiffs have recognized the venerated icon, beginning with Pope Clement XI who issued a Canonical Coronation to the image on 8 September 1717 via the Vatican Chapter.
The icon is sometimes referred to as "the Black Madonna" because of its dark coloration caused by centuries of soot from devotional candles. For protection as well as for veneration, the icon is usually only displayed with a decorated cover that only shows the original painting's portrayal of Mary's and Christ's faces and hands.
PRAYER TO OUR LADY OF CZESTOCHOWA
[TO BE SAID EACH DAY UPON ARISING]
HOLY MOTHER of Czestochowa, Thou art full of grace,
goodness and mercy. I consecrate to Thee all my thoughts,
words and actions—-my soul and body. I beseech Thy
blessings and especially prayers for my salvation.
Today, I consecrate myself to Thee, Good Mother, totally
 —-with body and soul amid joy and sufferings to obtain
for myself and others Thy blessings on this earth and
eternal life in Heaven. Amen.
Imprimatur: Cardinal O' Boyle, Washington, DC.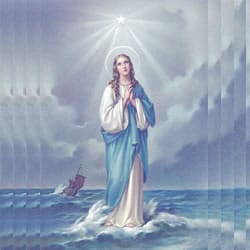 VIRGÓ SACRÁTA is a Christian mission-driven online resource and shop inspired from the beauty of Catholic faith, tradition, and arts. Our mission is to "Restore All Things to Christ!", in continuing the legacy of Pope St. Pius X under the patronage of the Blessed Virgin Mary. "Who is she that cometh forth as the morning rising, fair as the moon, bright as the sun, terrible as an army set in battle array?" O Mary, conceived without sin, pray for us who have recourse to Thee.