Description
Our 100% Pure Beeswax Votive Candles are unique and designed to melt and produce a molten pool in the votive glass holder. Virgo Sacrata also offers a set of 6, or 12 beeswax votive candles with 2 glass containers packaged in an attractive gift box.
Votive candle approximate weight: 2.2 Ounces
Dimensions: 1.75″H x 1.75″ W.
For centuries, beeswax votive candles have been used to uplift the soul in spiritual ceremonies around the world. Handmade in Canada, we use only natural, environmentally-friendly ingredients: 100% pure Canadian beeswax, and cotton wicks. No solvents, no lead or zinc, nor any other toxins commonly found in candles. Good for the world, and good for your health, too, as beeswax candles emit distinct compounds when they burn, neutralizing airborne contaminants and allergens. Better yet, beeswax candles produce a natural glow that is closest to sunlight.
A votive candle, beeswax votive candle, or prayer candle is a small candle, typically honey-yellow, intended to be burnt as a votive offering in an act of Christian prayer, especially within the Roman Catholic and Christian Orthodox denominations, among others. Home altars usually are adorned with a couple of votive candles. Candles are lit for prayer intentions. To "light a candle for someone" indicates one's intention to say a prayer for another person, and the candle symbolizes that prayer.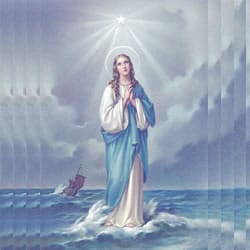 VIRGÓ SACRÁTA is a Christian mission-driven online resource and shop inspired from the beauty of Catholic faith, tradition, and arts. Our mission is to "Restore All Things to Christ!", in continuing the legacy of Pope St. Pius X under the patronage of the Blessed Virgin Mary. "Who is she that cometh forth as the morning rising, fair as the moon, bright as the sun, terrible as an army set in battle array?" O Mary, conceived without sin, pray for us who have recourse to Thee.