Description
Angels with Trumpets — Pescara Proclamation Angels Religious Statue – directly cast from the 19th-century originals discovered in an Italian cathedral. Classically posed and full of spiritual rapture, these stunning angels are heirloom investments for generations to come. Our angels triumphantly blow their trumpets and every detail, from feathered wings to the soft folds of their gowns, is skillfully captured in high-quality fiberglass resin and hand-painted in an antique stone finish.
Due to an unprecedented agreement with an Italian company that specializes in antique religious statues, these monumental works of art were rescued from obscurity to emanate peace and tranquility. A pair of left and right Angel statues blowing trumpets  would be perfect to place them on either side of an altar for an entryway for a church.
And he shall send his angels with a trumpet, and a great voice: and they shall gather together his elect from the four winds, from the farthest parts of the heavens to the utmost bounds of them.
~ Matthew 24:31
Angels with Trumpets Product Care
This statue is crafted of durable resin and may be displayed outdoors with the following care:
Painted statues will benefit from a coat of clear acrylic spray paint to slow fading from sun exposure.
Avoid direct exposure to freezing winter weather.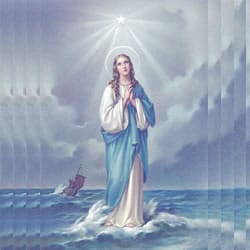 VIRGÓ SACRÁTA is a Christian mission-driven online resource and shop inspired from the beauty of Catholic faith, tradition, and arts. Our mission is to "Restore All Things to Christ!", in continuing the legacy of Pope St. Pius X under the patronage of the Blessed Virgin Mary. "Who is she that cometh forth as the morning rising, fair as the moon, bright as the sun, terrible as an army set in battle array?" O Mary, conceived without sin, pray for us who have recourse to Thee.