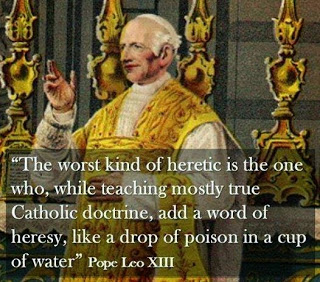 "Pretend the magisterium has not spoken", and the "Elevation of hetero-praxis over doctrine" – a new approach of action that conflicts with the perennial magisterium, – are two principal modernist tactics of the Conciliar revolution.
Below is a clear guide (and reminder) of the "Catholic Church Teaching on Heresy in the Church", and the "Catholic Church Teaching on Heresy and the Pope".
To begin with, let us state that the theological authority of St. Thomas Aquinas (1225-1274) is unsurpassed in the Catholic Church. The teaching of the Angelic Doctor is also the perfect antidote to Modernism. While paying lipservice to him, today's Modernists pervert and undermine St. Thomas' thought in their ressourcement theology. As Pope Pius XI counseled:
"If we are to avoid the errors which are the source and fountain-head of all the miseries of our time, the teaching of Aquinas must be adhered to more religiously than ever. For Thomas refutes the theories propounded by Modernists in every sphere, in philosophy, by protecting, as We have reminded you, the force and power of the human mind and by demonstrating the existence of God by the most cogent arguments; in dogmatic theology, by distinguishing the supernatural from the natural order and explaining the reasons for belief and the dogmas themselves; in theology, by showing that the articles of faith are not based upon mere opinion but upon truth and therefore cannot possibly change; in exegesis, by transmitting the true conception of divine inspiration; in the science of morals, in sociology and law, by laying down sound principles of legal and social, commutative and distributive, justice and explaining the relations between justice and charity; in the theory of asceticism, by his precepts concerning the perfection of the Christian life and his confutation of the enemies of the religious orders in his own day. Lastly, against the much vaunted liberty of the human reason and its independence in regard to God he asserts the rights of primary Truth and the authority over us of the Supreme Master. It is therefore clear why Modernists are so amply justified in fearing no Doctor of the Church so much as Thomas Aquinas". (Pope Pius XI, Encyclical Studiorum Ducem, n. 27).
What is Heresy?
"Heresy consists in a stubborn denial of truths which have been defined and proposed by the Church as divinely revealed doctrines." (Canon 1324-1325 of the 1917 Code of Canon Law). As a crime it consists of the outward and pertinacious manifestation of the sin.
What must we believe?
"By the divine and Catholic Faith, all those things must be believed which are contained in the written Word of God and in tradition, and those which are proposed by the Church, either in a solemn pronouncement or in her ordinary and universal magisterium, to be believed as divinely revealed." (Vatican Council I, Denzinger 1792)
"Any baptized person who … obstinately denies or doubts any of the truths proposed for belief by divine and Catholic faith, is a heretic."(C. 1325)

References to Heresy in Scripture
---
Take heed to yourselves, and to the whole flock, wherein the Holy Ghost hath placed you bishops, to rule the church of God, which he hath purchased with his own blood. I know that, after my departure, ravening wolves will enter in among you, not sparing the flock. And of your own selves shall arise men speaking perverse things, to draw away disciples after them. Acts 20:28-30

A man that is a heretic, after the first and second admonition, avoid: Knowing that he, that is such an one, is subverted, and sinneth, being condemned by his own judgment. Titus 3:10-11

Whosoever revolteth, and continueth not in the doctrine of Christ, hath not God. He that continueth in the doctrine, the same hath both the Father and the Son. If any man come to you, and bring not this doctrine, receive him not into the house nor say to him, God speed you. For he that saith unto him, God speed you, communicateth with his wicked works. 2 John 1:9-11

Now the Spirit manifestly saith, that in the last times some shall depart from the faith, giving heed to spirits of error, and doctrines of devils, Speaking lies in hypocrisy, and having their conscience seared…." 1 Tim 4:1-2

For there shall be a time, when they will not endure sound doctrine; but, according to their own desires, they will heap to themselves teachers, having itching ears: And will indeed turn away their hearing from the truth, but will be turned unto fables. 2 Tim 4:3-4

But there were also false prophets among the people, even as there shall be among you lying teachers, who shall bring in sects of perdition, and deny the Lord who bought them: bringing upon themselves swift destruction. And many shall follow their riotousnesses, through whom the way of truth shall be evil spoken of. And through covetousness shall they with feigned words make merchandise of you. Whose judgment now of a long time lingereth not, and their perdition slumbereth not. 2 Peter 2:1-3

But he that shall scandalize one of these little ones that believe in me, it were better for him that a millstone should be hanged about his neck, and that he should be drowned in the depth of the sea. Matthew 18:6
Catholic Church Teaching on Heresy in the Church
---
From the encyclical on "Unity of the Church", by Pope Leo XIII in 1896, "Our Lord Jesus Christ, when in His Gospel He testifies that those who not are with Him are His enemies, does not designate any special form of heresy, but declares that all heretics who are not with Him and do not gather with Him, scatter His flock and are His adversaries: He that is not with Me is against Me, and he that gathereth not with Me scattereth" S. Cyprianus, Ep. lxix., ad Magnum, n. I

Canon 33. "No one shall join in prayers with heretics or schismatics." The Synod of Laodicea (4th Century)

Next comes the heretic who belongs to an heretical association; for such a person his heretical membership alone is sufficient to bring him under sentence of excommunication. In his case the penalty is incurred by adhesion to the heresy, notably by wilful and active participation in sacris (i.e. in public worship) with heretics" Catholic Encyclopedia: Excommunication (1917)

There can be nothing more dangerous than those heretics who admit nearly the whole cycle of doctrine, and yet by one word, as with a drop of poison, infect the real and simple faith taught by our Lord and handed down by Apostolic tradition" Encyclical on Unity of the Church by Pope Leo XIII, 1896
Catholic Church Teaching on Heresy and the Pope
---
In addition, [by this Our Constitution, which is to remain valid in perpetuity We enact, determine, decree and define] that if ever at any time it shall appear that any Bishop, even if he be acting as an Archbishop, Patriarch or Primate; or any Cardinal of the aforesaid Roman Church, or, as has already been mentioned, any legate, or even the Roman Pontiff, prior to his promotion or his elevation as Cardinal or Roman Pontiff, has deviated from the Catholic Faith or fallen into some heresy: (i) the promotion or elevation, even if it shall have been uncontested and by the unanimous assent of all the Cardinals, shall be null, void and worthless… " Cum ex Apostolatus Officio" Apostolic Constitution of Pope Paul IV, 1559

It shall be lawful for each and all of the cardinals,…as well as for all the clergy and the Roman people,… to withdraw without penalty and at any time from obedience and loyalty to the person so elected even if he has been enthroned (while they themselves, notwithstanding this, remain fully committed to the faith of the Roman church and to obedience towards a future Roman pontiff entering office in accordance with the canons) and to avoid him as a magician, a heathen, a publican and a heresiarch." Pope Julius II, Council of Lateran V. 1513

"Now when [the Pope] is explicitly a heretic, he falls ipso facto from his dignity and out of the Church, and the Church must either deprive him, or, as some say, declare him deprived, of his Apostolic See". St. Francis de Sales, "The Catholic Controversy"

"…a pope who is a manifest heretic by that fact ceases to be pope and head, just as he by that fact ceases to be a Christian and a member of the body of the Church; wherefore he can be judged and punished by the Church. This is the judgment of all the early fathers, who teach that manifest heretics immediately lose all jurisdiction." St. Robert Bellarmine, "On the Roman Pontiff"

"An heretical pope necessarily ceases to be head of the Church, for by his heresy he is no longer a member thereof: in the event of his still claiming the Roman see a general council, improperly so-called because without the pope, could remove him. But this is not deposition, since by his own act he is no longer pope." A Catholic Dictionary, 1951. Deposition

"The councils of Constance and Basle, and Gallican theologians, hold that a council may depose a pope…(2) /ob fidem/ (on account of his faith or rather want of faith, i.e. heresy). In point of fact however, heresy is the only legitimate ground. For a heretical pope has ceased to be a member of the Church, and cannot, therefore, be its head." Catholic Encyclopedia, 1913. [Vol. IV p.435] Councils

Can a Heretic be a Valid Pope of the Roman Catholic Church?

---

No. The Papal Bull Cum ex apostolatus officio of Pope Paul IV teaches that: if anyone was a heretic before the Papal election, he could not be a valid pope, even if he is elected unanimously by the Cardinals. Canon 188.4 (1917 Code of Canon Law) teachers that : if a cleric (pope, bishop, etc.) becomes a heretic, he loses his office without any declaration by operation of law.

St. Robert Bellarmine, St. Antonius, St. Francis deSales, St. Alphonsus Liguori, and many other theologians all teach that a heretic cannot be a pope: "If however, God were to permit a pope to become a notoriously and contumacious heretic he would by such fact cease to be pope, and the apostolic chair would be vacant." — St. Alphonsus Liguori, Church Doctor: Verita bella Fede. Pt. iii, Ch.viii, 9-10.
St. Francis of Assisi had a gift of prophecy about a future Church crisis such as ours. He described a corrupt pontificate where Our Lord had placed a "non-canonically elected destroyer" into the visible seat. This prophecy, with Imprimatur, is available here: St Francis of Assisi Prophecies, Great Schism and Tribulations in the Church.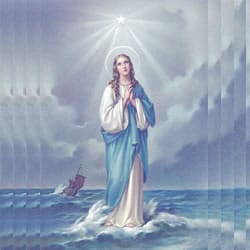 VIRGÓ SACRÁTA is a Christian mission-driven online resource and shop inspired from the beauty of Catholic faith, tradition, and arts. Our mission is to "Restore All Things to Christ!", in continuing the legacy of Pope St. Pius X under the patronage of the Blessed Virgin Mary. "Who is she that cometh forth as the morning rising, fair as the moon, bright as the sun, terrible as an army set in battle array?" O Mary, conceived without sin, pray for us who have recourse to Thee.