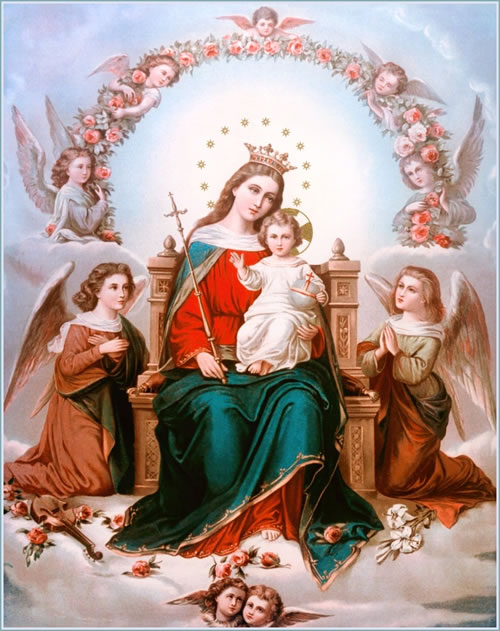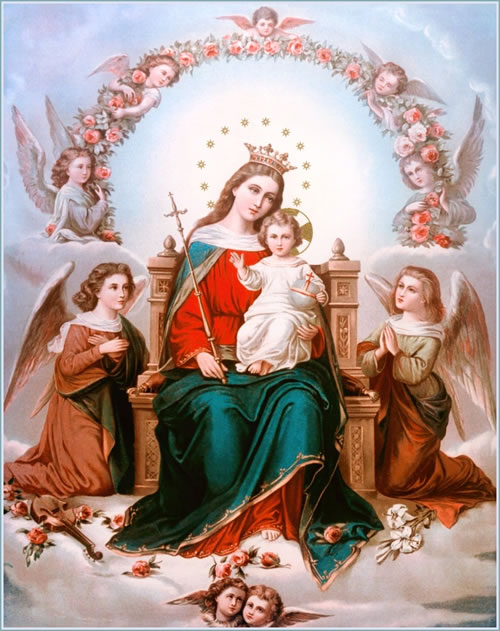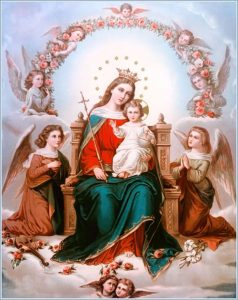 Herman Contractus (1013 – 1054) – an 11th-century Benedictine monk and scholar – has been traditionally credited with the composition of several popular Marian antiphons, including Ave Regina Cælorum.
The hymn praises Our Lady, acknowledging her Queenship over heaven and angels, and extolling her unparalleled beauty and favor with God. It also acknowledges her as the mediator between men and Our Lord Jesus Christ, as it asks her to pray for us to Our Lord.
"Dignare me laudare te, Virgo sacrata! Da mihi virtutem contra hostes tuos."

"Vouchsafe that I may praise thee, O sacred Virgin. Give me strength against thy enemies."
The Saints often had these words on their lips. We could say the above words each time we take up our Rosary.
Ave Regina Cælorum in Latin and English
Latin
English
Ave, Regina Cælorum,
Ave, Domina Angelorum:
Salve, radix, salve, porta,
Ex qua mundo lux est orta:

Hail, O Queen of Heaven enthroned.
Hail, by angels mistress owned.
Root of Jesse, Gate of Morn
Whence the world's true light was born:

Gaude, Virgo gloriosa,
Super omnes speciosa,
Vale, o valde decora,
Et pro nobis Christum exora.
Glorious Virgin, Joy to thee,
Loveliest whom in heaven they see;
Fairest thou, where all are fair,
Plead with Christ our souls to spare.

℣. Dignare me laudare te, Virgo sacrata.
℟. Da mihi virtutem contra hostes tuos.

℣. Vouchsafe that I may praise thee, O sacred Virgin.
℟. Give me strength against thine enemies.
Oremus
Let us pray
Concede, misericors Deus, fragilitati nostrae praesidium; ut, qui sanctae Dei Genetricis memoriam agimus; intercessionis eius auxilio, a nostris iniquitatibus resurgamus. Per eundem Christum Dominum nostrum. Amen.
Grant, O merciful God, to our weak natures Thy protection, that we who commemorate the holy Mother of God may, by the help of her intercession, arise from our iniquities. Through the same Christ our Lord. Amen.
Gregorian chant notation from the Liber Usualis. Latin lyrics sung by the Benedictine Monks of Santo Domingo de Silos.
Ave Regina Caelorum Gregorian Chant Notation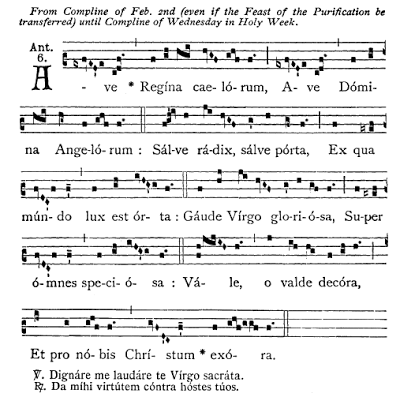 In the Roman Breviary of St Pius V, the four Marian antiphons for the end of Compline are each assigned to a specific part of the year:
"Alma Redemptoris Mater" is said in Advent and the Christmas season;
"Ave, Regina Cælorum" from the Feast of the Purification (February 2nd) until Spy Wednesday in Holy Week;
"Regina Cæli" in Eastertide;
"Salve Regina" from Trinity Sunday to the end of the liturgical year.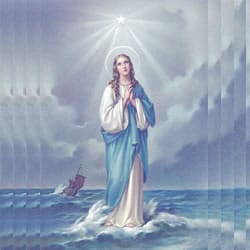 VIRGÓ SACRÁTA is a Christian mission-driven online resource and shop inspired from the beauty of Catholic faith, tradition, and arts. Our mission is to "Restore All Things to Christ!", in continuing the legacy of Pope St. Pius X under the patronage of the Blessed Virgin Mary. "Who is she that cometh forth as the morning rising, fair as the moon, bright as the sun, terrible as an army set in battle array?" O Mary, conceived without sin, pray for us who have recourse to Thee.